Go Back
---
Smart career change to remote IT jobs with CentralApp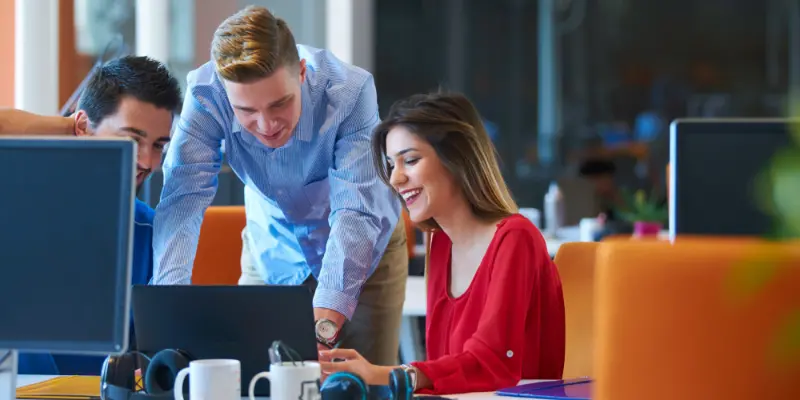 Have you been considering switching careers? Are you looking into flexible remote jobs for better work life balance? Do you wonder where to find legitimate and high paying work from home jobs?
If you're just at the beginning of this journey, this transition might seem overwhelming to figure out all by yourself. Even when you take the initiative to get the right certifications, you might still face barriers with few employers who would invest in workers with no prior experience. This is why professional connections and networks are instrumental to champion successful career transitions.
With a thriving industry and growing tech opportunities, West Virginia has become a dynamic hub that attracts and invests in talent who are transitioning careers in tech. Read on and learn how platforms like CentralApp have helped more professionals build their high paying remote tech career in #YesWV.
CentralApp makes career transition dream come true
High paying tech jobs that don't require a 4 year degree
Before joining CentralApp Talent Exchange, Jacob felt stuck with his career because he couldn't finish his college degree.
"I started college, but I had to quit because I couldn't afford it," he said. "I worked at Walmart for a while. Then I got a job as a security guard but the hours were brutal. That's when I found CentralApp."
He signed up for an on-the-job training program through CentralApp. By the end of the program, Jacob had earned three in-demand technical certifications and had jobs waiting for him through the CentralApp Talent Exchange. The best part? The work is all done remotely, so he can work from anywhere he can pick up a WIFI connection. Plus, the money is much better.
His advice to others considering a tech career? "Don't let the job descriptions intimidate you. It sounds hard, but you take it a little at a time and you learn it. You don't have to be an expert. You just have to be willing to try."
Flexibility and work life balance
Another Talent Exchange Trailblazers Zach was able to build a brand new remote career through CentralApp Talent Exchange. After finding out that he can no longer perform his job as electrician's assistant after being diagnosed with brain tumor, Zach took some Salesforce certification training and was able to quickly land on better paying work from home opportunities through CentralApp.
The aforementioned alumni Zach was first placed by CentralApp with a contract job in a Philadelphia tech company in February 2020 after he completed his training program. In three months, he was quickly promoted to a full-time managerial position. What's amazing is that he can perform his job from his home in Little Birch, West Virginia. He enjoys the flexibility of working remotely for him to focus on his health and wellbeing. Most importantly, he's able to balance his family life as foster parents with his wife.
Free support network that provides active and legitimate opportunities
Rebekah, a Salesforce developer from Beckley, WV, was working at the same company for 25 years but didn't know where to start to make a career leap. In just three months working with CentralApp, she increased her pay by nearly 50%. She's now a Salesforce Developer, with less commute and bigger paychecks.
"I was very intrigued by the fact that CentralApp wanted to promote technology jobs in the Appalachian region. Even though I had worked in the industry for years, I still felt we were behind the times and that technology jobs were not something employers looked to people in this area for. I felt for years that our pay levels and type of work were below the industry averages. I knew there were more — and possibly better — opportunities out there, but I had no idea how to find them. CentralApp made that possible," Rebekah said.
Opportunities at CentralApp
Job opportunities through CentralApp Talent Exchange
Join CentralApp Talent Exchange, a free, invite-only network of tech professionals to turn your career transition into reality. Talent Exchange members are eligible to work on projects for CentralApp's diverse client base.
Pay rates range from $15 to $55 per hour depending on the job or project
Current opportunities include Salesforce-certified Developers and Salesforce Administrators contract positions working with workforce serving clients across the country
Work hours and location are flexible and can be done from home, as long as you are based in the United States. They are particularly looking for candidates working and living within the Appalachian region
Talent Exchange members are not employees of CentralApp. Rather, they are self-employed or freelance contractors. Some permanent (W2 employment) placements may be made available to Talent Exchange members. However, such placements will require a separate application process at the time the positions are announced
Ideal candidates
Anyone authorized to work within the United States may apply. They are particularly interested in sourcing talent from the Appalachian region.
Experience working in a technical field such as Salesforce development, web development, app development, data science, machine learning, or cybersecurity.
How to apply
The successful candidate will be admitted to the CentralApp Talent Exchange. To apply, complete the application form and submit your resume (required). It is also highly encouraged to attach a cover letter detailing why you believe you would be a good fit for the Talent Exchange.
Connect with remote job employers through CentralApp
CentralApp provides a supportive network for their Talent Exchange members to remote tech careers while enjoying work life balance in the beautiful Appalachia. They connect work from home job seekers with companies that offer flexible and well paid employment opportunities.
With a growing number of IT jobs being outsourced to the foreign workforce, CentralApp is committed to securing opportunities for local talents. "We have so many talented people already here in West Virginia, we just need to get the word out that we're here and ready to get to work," said Todd Cope, CEO of CentralApp.
CentralApp bridges this gap, focusing on building strong connections in the tech industry to provide more jobs and investing in a powerful professional network to connect job seekers with the right opportunities. In 2021, Cope traveled the country to pitch to tech executives about the growing talent market in West Virginia as well as the impact of the CentralApp professional network. "As I talk to people about outsourcing tech jobs to West Virginia, I've learned that the most important thing is making them aware that we're here, that the quality of our work is good and that we're affordable," Cope said.
Todd Cope, CEO of CentralAPP, is a West Virginian on the go. Last year, he and his Tesla made a cross-country trek from West Virginia to Silicon Valley to highlight tech jobs in places you might not expect them. He also took the opportunity to connect with industry leaders to learn more about strengthening the tech economy in Appalachia.
Learn more about West Virginia's blooming tech industry
Read more about West Virginia's fast growing IT and high tech sectors and more job opportunities to Get hired in West Virginia's tech ecosystem.
---
This article is sponsored by WorkForce West Virginia. All opinions expressed in this post are based on my personal view.